Cantor Building, Sheffield Hallam University, 153 Arundel Street, Sheffield, S1 2NU, UK
The Cantor building is a modern and sophisticated venue on Sheffield Hallam's city campus and is just a few minutes' walk from Sheffield railway station. This building boasts some of the most sustainable and energy-saving features anywhere in the city, and also boasts LCD windows forming an active frontage which is opaque when dormant but becomes clear when an electrical charge is passed through it.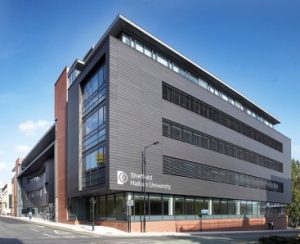 Gala Venue
The Gala dinner will be held at Cutlers' Hall, which is a magnificent venue steeped in history and grandeur. This impressive Grade II listed building in the heart of Sheffield is located 10 minutes' walk from the conference venue."
Travel
How to find us
Sheffield is known as a great northern city – and we're proud to be in Yorkshire.
But look on a map and you'll see that we are actually right in the middle of the UK, with great transport links to the rest of the UK. For example, we're just two hours from London by train.
The city itself is served by excellent bus services – and the famous Supertram.
The conference is being held on the City Campus of Sheffield Hallam University.
City Campus
Our City Campus is located opposite Sheffield train station and next to Sheffield bus station – as you walk out of the station you are right in the middle of our campus.
Get directions to City Campus.
By train
Sheffield train station is opposite our City Campus. Visit National Rail Enquiries for times and fares, or call +44 (0)8457 48 49 50.
By coach
Coaches stop at Sheffield Interchange, next to our City Campus. Visit the National Express website to see timetables and book tickets
By car
The City Campus address and postcode are
Howard Street, Sheffield, S1 1WB (if you are using satnav please use S1 4RF)
City Centre map and location
Visit the AA website for the latest travel information and to plan your journey.
Find out where to park at our campuses.
Travel within Sheffield
Travel South Yorkshire provides information about local buses and Supertram, including timetables, journey planning, tickets and park and ride services.
Call the Traveline on +44 (0)1709 515151 for more information.
Local airports
Accessibility
You can find detailed information about the accessibility of our buildings on the DisabledGo website.
DisabledGo produce detailed online access guides to a wide range of venues. The information they provide aims to empower disabled people to make their own informed decisions about the usability of a venue based on their own particular access requirements.